Worship Services
Trinity Lutheran Church offers year-round Sunday worship services indoors at 8:15 and 10:45 a.m., and a Saturday evening worship service at 5:00 p.m.  From September through May, Sunday School is held at 9:30 a.m. on Sunday mornings.  
During the summer, Outdoor Worship Services are held between Memorial Day in May through the end of August / Labor Day on Sundays at 9:30 a.m. (in lieu of Sunday School).  It is a very casual service.  Bring a lawn chair, or borrow a folding chair, and join us!  (In inclement weather, we move indoors.) 
First Communion
On Sunday, October 26th at both worship services, several young members of Trinity Lutheran Church will receive their first Holy Communion. For the past few weeks, they have been learning about the components of communion, and why we partake of this Holy Meal. They even participated in the process of making the bread - a wonderful, hands-on approach to help them connect with our TLC family. Discussions included the benefits for those who believe, loving all members of God's family unconditionally, forgetting our sins / mistakes, and the Lord's supper -- a way of helping us to forget our mistakes so we can freely enjoy God's bounty. May these lessons serve as a reminder to us all why we take Communion and the significance of this Holy Meal. Please seek out these youth, and congratulate them on this very special and momentous occasion.
Organ Music Concert: Nov 2, 3:00pm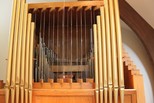 Organist, James Rearick, is celebrating 50 years of playing the organ in various local churches in the State College area, to include his present congregation at Trinity Lutheran. On this special occasion in his musical career, Jim will present a concert of classical and sacred music. Alfred Fedak, a renowned organist, has written a piece especially for Jim's 50th anniversary...  Read more...
Trinity is Turning 50!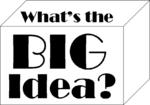 Established in 1965, Trinity Lutheran Church will be celebrating its 50th birthday between Nov. 2015 - Nov. 2016!  A committee is helping to plan the festivities, and they need your ideas!  How would you like to celebrate the church's 50th birthday?  What's your BIG idea?  Drop your ideas in the BIG Idea Box at church, or visit our 50th Anniversary Page to submit your ideas electronically.  
Sunday School Underway
Trinity's Sunday School kicked off on Sunday, September 7, 2014.  Sunday School is held every Sunday from 9:30-10:30 a.m. for pre-Kindergarten through high school and Adult age groups.  Sunday School will continue each week (except for some holidays) from September through May.  See our Christian Education page for more Sunday School details.