Women of Faith Prayer Quilt Ministry
Interested in quilting? Want to get involved in a TLC ministry? Know of anyone who needs our prayers and the comfort of a warm quilt? Join us in our Prayer Quilt Ministry at Trinity Lutheran Church.
This group gets together 4-6 Saturday mornings a year to make prayer quilts. The quilts we make are flannel rag quilts, so we can always use folks who are willing to sew, cut fabric and batting, sandwich blocks, clip quilt edges, wash and dry the quilts and deliver them. There is something for everyone to do.
If you have questions or want to join the group, speak to or email Jean Ross ([email protected]) or Barb Roberts ([email protected]). If you are interested in financially supporting the Prayer Quilt Ministry, we will gladly accept donations of cash, checks or gift cards to Jo Ann Fabrics. With coupons from Jo-Ann Fabrics, we can stretch your donation to get the most fabric for your dollar.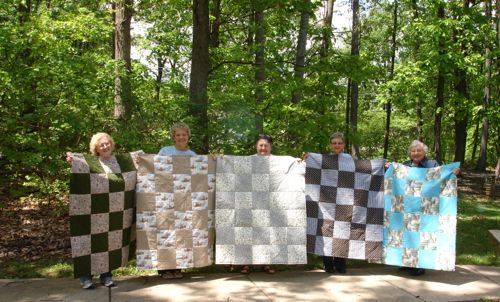 If you know of someone in our TLC family who needs a quilt, please let Pastor Miller, Barb Roberts, Jean Ross, Esther Lauchle or Lynn Garrison know.
Here's what recipients have said after getting a prayer quilt…
"…But in all my years, I have never gotten support quite like your wonderful quilt. Comforting as it is, the real warmth flows from your prayers that come with it."
"Sending a thank you to the "Women of Trinity" for the quilt. I have used it many times. I appreciate your prayers…"
"The lap quilt will be a treasure. I just am overwhelmed…I thank you and the TLC Quilt Community for your concern."
"Thank you for thinking of me. The quilt was very much appreciated!"